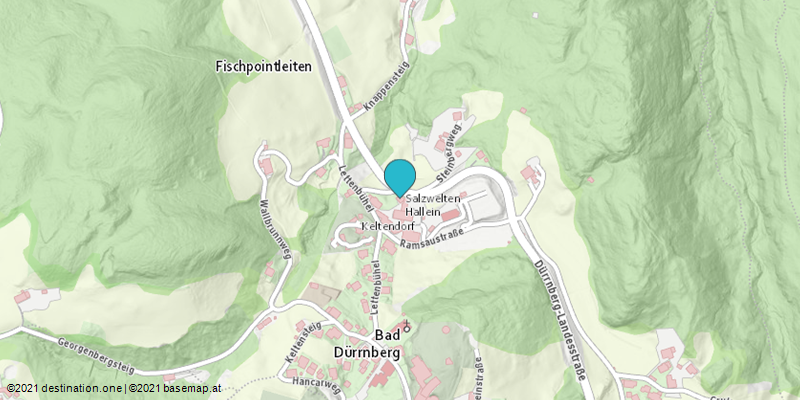 Hallein Salt Worlds near Salzburg
Special features
The Hallein Salt Worlds show you the secrets of 2,500 years of salt mining.

Exciting insights into the daily life of prehistoric miners, who dug here more than 2,500 years ago after the "white gold", are provided by the Hallein Salt Mine and the Celtic Village "SALINA" on the Dürrnberg. The mine train is a fun and easy way to access the interior of the mountains, then two long miners' slides will take you to the salt lake, which you cross on a raft . The Salt Mine Ticket allows you to visit the Celtic village SALINA and the Celtic Museum in Hallein free of charge. NEW Children's guided tour with SALLY, the small clever mine duck (July & August, Tue 17:00, EUR 13.00/pers, registration necessary)

01.04. bis 05.11.2017
9.00 bis 17.00* Uhr

06.11. bis 31.12.2017
10.00 bis 15.00* Uhr

*Start of the last tour

General price information:
Salt World ticket € 21,00
Children older than 4 years are welcome in the Salt Mines



Discounts
Discounts (Age-related / Groups):
Children
Student groups with school class
Students
Seniors
Civil and military servants
Handicapped
Families
Groups
Discounts (Memberships)
Salzkammergut Erlebniscard (Sommer)
RED. RATE WITH CARD 2017
Salt World ticket € 16,80
€ 2,00 discount per family ticket
Salzkammergut Winter-Card
RED. RATE WITH CARD 2016-17
Per persone € 16,80
Additionally € 2,00 discount on already low-priced family tickets!
Arrival
Accessibility / arrival
Refer to the journey planner of the
ÖBB Austrian Railways
for obtaining information for getting there by public transport.
Stop: Bad Dürrnberg Salzbergwerk
Connections public transport/timetable information:
Travelling by public transport
Route planner for independent travellers
Sehenswürdigkeiten
Hallein
The Hallein Salt Worlds show you the secrets of 2,500 years of salt mining. Exciting insights into the daily life of prehistoric miners, who dug here more than 2,500 years ago after the "white gold", are provided by the Hallein Salt Mine and the Celtic Village...